CERES Nursery and Bookstore
One of Melbourne's leading nurseries, the CERES Nursery and Bookstore focuses on permaculture principles and encourages backyard food production. You can find us in the community park at CERES Brunswick East.
CERES Nursery and Bookstore provides expert and practical advice for plant-lovers. As a Permaculture nursery, our aim is to encourage backyard food production. We also sell a huge range of indoor plants, from monstera to fiddle leaf fig and everything in between.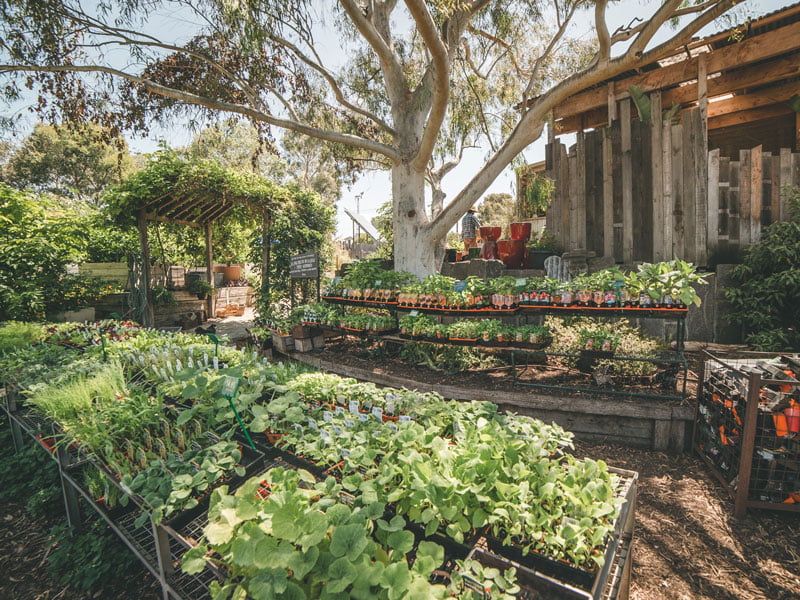 Whether you have room for a food forest or simply a window box for herbs we supply a vast array of organic seedlings, fruit trees and plants to grow and enjoy in your garden, as well as providing the knowledge and support to do so.
Our Brunswick nursery is a place to relax, and take positive action towards creating a better world. Planting a beautiful, healthy and productive garden filled with food is one of the most creative and peaceful ways to sustain individual and planetary health.
Our Nursery is situated just across from the Merri cafe within the beautiful surroundings of our community park. Though if you're not able to come in at this time, be sure to read up on our gardening resources and seasonal gardening advice. 
We have a large range of organic gardening materials and products. Here are a few highlights:
Open Monday – Sunday
9am – 5pm
Corner of Roberts & Stewart Streets, Brunswick East, VIC 3057
Call (03) 9389 0111
Our socials share timely garden advice, events and the latest product arrivals.